Floor restoration and rehabilitation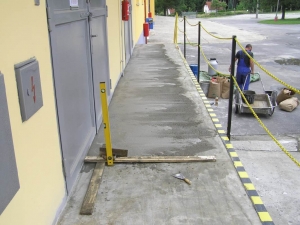 Floors in production, storage and parking buildings as well as outdoor cement-concrete slabs are subject to wear and damage, which is proportionate to the form and intensity of use. The damage is caused not only by impacting objects or aggressive chemicals, but also by common wear and tear. Surfaces subject to increased loads often suffer from damaged corners of dilatation joints, chipped, peeling or lifting edges of dilatation joints and day joints without proper armouring, and from excessive wear on low-cost dilatation systems (joint covers). (The excessive wear may also be the result of manufacture faults of the floor slab, such as unsuitable grain size of aggregates or unfavourable temperature and humidity during the curing phase.) We offer repairs for small area damage, impact damage, dilatation failures or the whole load bearing floor panels.
Thorough preparation of the surface is essential for both small and whole area renovation. The optimal method is selected according to the specific requirements. Overall rehabilitation includes cutting and removing whole sections of damaged structures. Small area damage requires grinding, steel shot blasting or water jet cleaning. Flat surface joints or metal armoring in repaired or new floors (mainly in resin systems) require so called "anchors", which are cuts from 3 to 15 mm wide and 5 to 15 mm deep, according to the material used. Lifted corners in joint crossings can be repaired by appropriate grouting, according to the slab material composition and proposed loads on the repaired surface. Cracked corners of dilation structures are repaired using polymer concrete with covered dilatation joints. It is necessary to consider all factors, such as floor design, loads, yearly temperature fluctuations, etc. Prior to crack repairs, the causes are identified and eliminated. We also assess – empirically or by a test – whether the cracks are active or passive. Active cracks are stabilised and filled with permanently elastic sealant. In case the use of sealant is unsuitable, the cracks are stabilised with steel ties and further treated as passive – by filling and applying a finishing layer of resin screed.
High adhesion and strength compounds with short curing times are ideal for small repairs of both concrete and resin surfaces. The compound mixture and technology procedures are adjusted according to the depth, area and proposed loads for each repair. Cement or acrylic-cement based mixtures with specialised aggregates are ideal for thorough repairs, providing the repaired surfaces with compressive strength of up to 80 MPa and offer zero residual moisture in 4 days (so called Rapid or "R"). These compounds can be coated with additional layers and vapourtight resins, if necessary.
Epoxy-cement, epoxy and polyurethane compounds can be used for both fast and thorough rehabilitations and methyl methacrylate compounds are ideal for the fastest repairs, all using appropriate grains size aggregates. Each system has specific advantages. (More information in sections on Epoxy screeds and coatings, polyurethane systems, MMA resins, screeds and coatings, cement screeds, self-levelling screeds, and decorative screeds with coloured sands and chips.)
When considering full rehabilitation of a "consumed" finishing floor surface, it is critical to assess the condition of the underlying material and determine whether it has suitable properties, namely compressive strength (min. 20 MPa), which is tested with a Schmidt hammer. Based on the results of the condition assessment, the surface can be repaired partially with just the individual damaged places repaired or only the top layer renovated, or fully rehabilitated including thorough surface preparation (more information in Surface preparation). The top layer renovation includes application of polymer concrete systems or cement screeds (cast or self-levelling screeds) and a finishing resin layer – screeds, coatings, or decorative screeds with coloured sands and chips. In case the underlying material proves unsuitable (its parameters are insufficient or the rehabilitation would be uneconomical due to multiple surface levels, gradients, damaged hollow understructure, etc.) a total rehabilitation is required. The original concrete slab is replaced with a new load bearing slab or the existing floor receives a new concrete layer including radon and moisture insulation. A single step technology provides a machine polished surface with sand dusting. In case a more resilient surface is required, within 3 weeks the new floor can be finished with a resin screed, resin coating or a decorative screed with coloured sands and chips. These systems, often mentioned on our pages, are described in more detail in their own individual sections.